The Cambridge AICE Program at St. Augustine High School
Cambridge International Fellowship Centre

Great article on Scholarship Myths.  Don't miss out on free money.  Read it now here.
Are you applying to Florida State University? Check out this FSU Scholarship Opportunity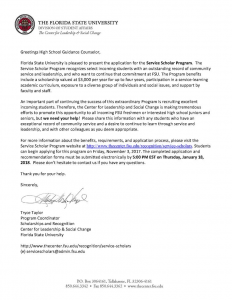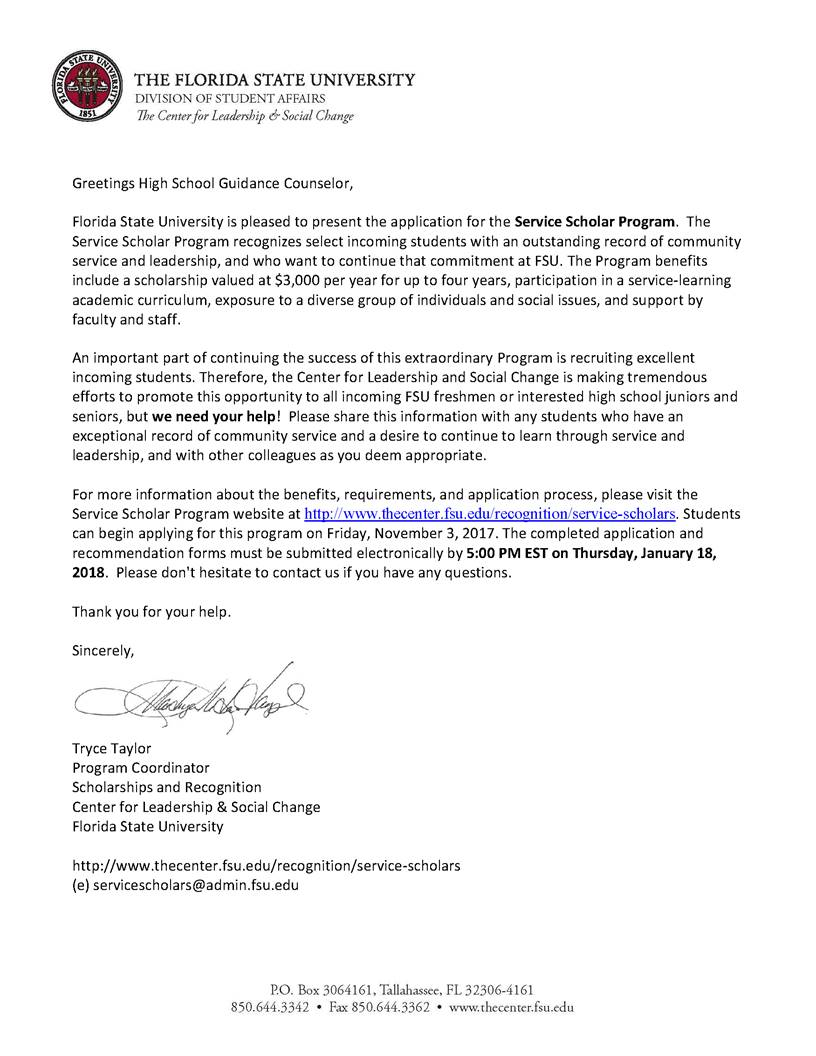 The deadline to apply for the AXA Scholarship is December 15th.
---
Harvard University Scholarships
Harvard University is offering free tuition to families of HONOR STUDENTS if their income is less than $125,000 per year. Visit www.fao.fas.harvard.edc or call 617.495.1581.
---
New College of Florida
Did you know that New College of Florida is still offering generous scholarships? Admissions decisions are being released weekly so encourage your talented students to complete their applications as soon as possible!
Why should they apply?

14.5% of New College of Florida graduates go on to earn a doctorate degree, 7x more than any other State University System of Florida institution.
More Fulbright scholars per capita than almost all other schools including Harvard and Yale.
New College ranks #2 in the State University System of Florida for percentage of undergraduate STEM graduates – 30% for 2013.
#2 Best Value among ALL public Colleges and Universities (USA Today/Princeton Review, 2014)
#5 Public Liberal Arts College in the nation (US News & World Report, 2015)
#5 Best Value among ALL Public Colleges and Universities (Kiplinger's Personal Finance, 2012-2013)
#8 Top Liberal Arts College in the nation and #1 among Public Liberal Arts Colleges (Washington Monthly, 2013)
#10 in the Nation for Liberal Arts College Percentage of students with no debt at graduation (US News & World Report, 2013)
61% of New College's 2012 graduates graduated with no debt. This is the highest percentage in the State University System of bachelor's graduates without debt.
Sincerely,
Mitch Finer
Director of Enrollment
[email protected]
New College of Florida
5800 Bay Shore Road
Sarasota, FL 34243

---
Southern Scholarship Foundation
Southern Scholarship Foundation provides scholarship opportunities for students attending or planning to attend: Florida State University, Florida A & M University, University of Florida, Florida Gulf Coast University, Tallahassee Community College, and Santa Fe College.
SSF provides rent-free scholarship housing for qualified students demonstrating academic achievement (with a minimum 3.0 cumulative GPA), financial need (as identified on the FAFSA), and good character. With our scholarship, students save $10,000 – $12,000 per year. We have 26 scholarship houses throughout the state of Florida and are looking to extend our recruitment efforts.
We accept applications year-round… The sooner students submit a completed application, the better! Please spread the word to students, department chairs, co-workers, etc.  
Our website is also a great source for information:www.southernscholarship.org. Should you have any questions or concerns, please, feel free to contact us.
Thank you.
— SSF Admissions Team
[email protected]
322 Stadium Drive Tallahassee, FL 32304
p: 850.222.3833 f: 850.222.6750
www.southernscholarship.org
Check us out on Facebook, Twitter, & YouTube!
---
Garden Club of St Augustine
The Garden Club of St. Augustine is accepting applications for college scholarships. Applicants must have a minimum 2.75 GPA and be committed to a career in Horticulture, Landscape Design, Ecology, Conservation, Botany, Forestry or related fields. Applications are available on the Garden Club website at www.gardenclubofstaugustine.org.

---
University of Mississippi and Mississippi State
The University of Mississippi is offering students interested in teaching Math or English at the high school level full scholarships (full tuition including room, board, meals, books, etc.) through a new program. It's titled Mississippi Excellence in Teaching Program and their website is www.metp.org
It's a very impressive program and a great opportunity for students interested in becoming teachers. Students who accept the scholarship have to commit to teaching in Mississippi for 5 years.
---
Center for Student Opportunity's Free Opportunity Scholars Program
We appreciated your letter of recommendation for our 2011 Opportunity Scholarship earlier this year and applaud your support of students striving to be first in their family to go to college. We hope that you have future students apply for the scholarship and, in the interim, encourage any high school or middle school students who are first-generation and/or low-income and/or from minority backgrounds to register for Center for Student Opportunity's free Opportunity Scholars program.
Your students can sign up at http://www.CSOcollegecenter.org/signup to become Opportunity Scholars, if they have not already done so. This FREE program for first-generation and traditionally underserved students is open to students from grades 6-12 and the program enables them to:
Connect directly with colleges featured on CSO College Center (4-year residential institutions committed to access, opportunity, and success for your students)

Receive monthly newsletters with tips and timelines

Apply for a $2,000/year scholarship (winners serve as bloggers on www.CSOcollegecenter.org/blog

CSO is excited to support your students in their college-going efforts. Please contact me at [email protected] or by phone at (301)363-4220 so we can discuss further collaboration.
Best,
Cara Martin
Associate Executive Director
Center for Student Opportunity
**New Address and Phone Number**
4641 Montgomery Ave., Suite 513Bethesda, MD 20814
phone: (301) 363-4220 | fax: (301) 951-7104
[email protected]  |www.CSOpportunity.org
---
Architecture Degree from Syracuse University
Syracuse University School of Architecture is desperately seeking young women and men of color interested in pursuing a 5 yr. professional degree in Architecture.
Contact: Mark Robbins, Dean School of Architecture, 201 Slocum Hall, Syracuse, NY 13244-1250 (315) 443-256 www.soa.syr.edu/indes.php
---
Black Male Teachers Needed
Do you know any Black Males who are seniors in high school who want to go to college out of state for FREE? The CALL ME MISTER program is offered by 4 historical black colleges in South Carolina (Benedict College, Chaflin University, Morris College and South Carolina State University). Visit www.callmemister.clemson.edu/index.html for details and an online application or call 1.800.640.2657
---
District Scholarship Page
Scholarships Page: http://www.stjohns.k12.fl.us/gpc/home/scholarships/
---
Tens of thousands of websites link to ours, including those of college access programs, high schools, universities, libraries,U.S. Embassies, state departments of education, federal government agencies, newspapers, and more.  And, Google ranks us in the top 10 (often in the first five) results for "college scholarships".
Among the pages on our site that you will find most helpful are:
 
1. a page that links to more than 60 helpful articles on subjects of interest to college-bound and current college students – college-scholarships.com/articles-for-students
2. a page which lists and links to more than 70 no-cost college scholarship search sites which match students to available scholarships – www.college-scholarships.com/free-scholarship-searches
3. a student loan repayment calculator – www.college-scholarships.com/financial-aid/student-loan-calculator
4. a page that lists colleges by state, with contact information and links – www.college-scholarships.com/colleges-by-state
5. an online GPA calculator that many believe is the best on the Internet – www.college-scholarships.com/gpa-calculator
6. a list of colleges with comprehensive programs for students with learning disabilities – www.college-scholarships.com/schools/colleges-with-programs-for-students-with-learning-disabilities
7. information on hundreds of fully accredited online degree programs – www.college-scholarships.com/schools/online-colleges
And www.college-scholarships.com offers even more, including a list of HBCU's, a list of colleges for women, a list of Catholic colleges, and a list of Christian colleges. And, more information is added every month.
Dan Rosenfield
American Educational Guidance Center
---
Did you know you could earn a scholarship for every time you got a good grade in high school?… you can also earn money for playing sports, volunteering in the community, participating in school clubs, being a leader and even for those PSAT scores you just received!
On Raise.me you can earn these micro-scholarships towards over 200 colleges for everything you've done throughout high school, you can even put in your grades and activities from the 9th grade!
Now is the time to get started before the college deadlines pass, so get started & earn your first micro-scholarship. Go to this site: https://www.raise.me/join/93540552214 and you'll be able to create your own Raise.me account. It's free for you and you can earn money for doing everything you're already doing!
Scores for the PSAT were released earlier this week. Students can earn up to $1000 in scholarship money on Raise.me for simply taking the PSAT and up to $8,500 for scoring well from 120 colleges!
Check it out!
---
Need money to pay for college? Don't know where to get it?
We have a GREAT opportunity to get students in touch with multiple scholarship opportunities while raising money for college!
zinch.com is a FREE website that helps high school students find and pay for college!! This scholarship search website allows students to showcase their talent, post videos, and have their information matched up with tons of scholarship opportunities – and all you have to do is sign up!
Please use our personalized link for SAHS: http://www.zinch.com?utm_source=HS-StAugustine and follow the instructions to create an account.  For every student who creates an account, ZINCH.COM will donate $1 to our AICE Advisory Fund!!!  So please sign up ASAP and encourage every student you know to sign up using our link!!!!
This is NOT just for juniors and seniors – many scholarships are available to high school students of ALL ages – and some are available to students who have already graduated!!!  So go find some money for college!!
---
FASTWEB.COM
Fastweb is the premier online resource for paying and preparing for college.
For fifteen years, we have excelled in providing students with the resources to realize their educational pursuits, from the time they begin their college search in high school to the day they land their first job after graduation.
Fastweb members are matched to relevant scholarship opportunities completely free of charge. With roughly 1.5 million scholarships worth over $3.4 billion, there are scholarships for every student's educational goals, activities and interests. Additionally, Fastweb members can depend on us for insider financial aid tips and job and internship matches in their area.
Our success stems from our commitment to empower students lives through information and innovation, creating an environment in which the scholarship and financial aid industry is better defined and more attainable
---
FINANCIAL SERVICE CENTERS OF FLORIDA disADVANTAGED SCHOLARSHIP 
Please visit our website www.FSCFL.com and click on the scholarship tab or the direct link: www.surveymonkey.com/s/QHWB7ZJ
Q: What is meant by disAdvantaged?
A: We are looking for individuals with academic potential and who have a history of persevering through hardship. There is no income range specified for qualifying applicants because other challenging factors may be considered besides a shortage of finances.
Q: What is the amount of the average award?
A: The average award is $500.
Q: How many awards are given?
A: Usually there are 10 scholarships awarded each year.
Q: Can scholarship recipients be eligible for subsequent awards?
A: Yes, but they must reapply each year to be eligible.
Q: What are my chances of getting an award?
A: The FSCF program is competitive. The number and quality of applications vary, but generally we receive between 500 and 800 applications each year. Remember, you will only have a chance of receiving an award if you apply.
Q: Why does FSCF provide the scholarship program?
A: The check cashers that comprise FSCF are community-based businesses that are dedicated to giving resources back to the communities that support them.
Q: Must I be a high school student to apply?
A: College students may also apply. Most applicants are high school students who are in the process of applying to colleges. We do ask for proof of acceptance by a university or college prior to issuing any awards.
Q: Do I still qualify if I am accepted into a community college?
A: Yes
---
SCHOLARSHIPEXPERTS.COM 
ScholarshipExperts.com™ was created in July 2000, and is based in Jacksonville, Florida. It currently offers a highly rated free scholarship search service on the Internet at www.scholarshipexperts.com and assists parents and students at no cost as they look for ways to pay for college. ScholarshipExperts.com™ is a proud member of the Northeast Florida Better Business Bureau, and meets the stringent requirements for approval in the nationwide BBB Online Reliability Program. Since 2003,Forbes.com has placed ScholarshipExperts.com™ at the top of its "Best of the Web" list, calling ScholarshipExperts.com™ "the best scholarship search engine we've found." Additionally, ScholarshipExperts.com™ was recognized by MONEY Magazine in May 2006 as a "Trusted Source" for scholarship information.
---
College Affordability Starts with the Scholarship Search 
Your students are probably searching for or applying to the perfect college as we speak. But remind those students that now is also the perfect time to start their scholarship search. Scholarships and grants are essentially free money that can reduce college costs and keep students out of debt. So help them maximize their scholarship-winning potential by reminding them to:
Explore outside scholarships.  Scholarship search engines provides thousands of scholarship opportunities to high school students, which is just free money for the taking. Even if students don't have high GPAs, chances are there are still scholarships available for them. Check out SimpleTuition's free

 

Scholarship Center for the newest way to explore these opportunities.
Read applications carefully. When applying to colleges, students should carefully review all application materials. Many colleges offer specific scholarships to artists, athletes, and other talented individuals. To qualify, students typically have to submit a piece of art, an athletic record, or a separate essay.
Actively search. In order to successfully obtain college funding, students should exercise their ambition: reach out to local community organizations, civic organizations, religious groups, the Rotary or Lions Club, and state governments.
Our point? There's so much money to be had and your students deserve some of it. So let the search begin.

SmarterBucks BrochuresWant to learn about a bank and a rewards program that helps students pay off their student loans and get debt-free faster? Get free brochures to read or share with students by emailing your address and the required quantity to [email protected]


Cambridge AICE Counselor
Dena Bechtle (904) 547-8533
[email protected]