Cambridge Electronic Transcript Form 2020
CIE Transcript Request Instructions
AICE Parent Night Presentation 2019-20
AICE Planning Sheet Course Progression CO 2021 and beyond
St. Gerard House Drive 10/28/2020 through 12/03/2020 Christmas Drive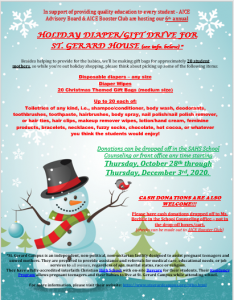 Welcome to
The Cambridge AICE Program
at St. Augustine High School


Cambridge International Fellowship Centre

Cambridge AICE
School Counselor
Dena Bechtle
(904)-547-8533
[email protected]
AICE Advisory Board Officers 2020-2021

| | |
| --- | --- |
| President      | Elijah Bauer |
| Vice-President | Ashley Herbert |
| Secretary | Eliza Dysart |
| Publications | Gabe Gunnells |
| | Isabella Giles |
| | Eleanor Giles |
| | Grace O'Shell |
| Fund-Raising | Addison Smith |
|   | Sarah Dematos |
|   | Marlee Whelan |
| Historians | Ella Robshaw |
| | Idaly Almanza-Enriquez |

 

AICE Advisory Board Meetings

Every Thursday 8:30 AM in Room C302

All AICE students are invited and encouraged to attend. Get involved and let your voice be heard!
Parents are important too! If you have an interest in helping with the AICE Advisory Board,
please join us at the next meeting, we'd love to have you!
| | |
| --- | --- |
| Support SAHS AICE when you shop at Amazon.com. Click on the picture, shop as usual and a % of your purchase will be donated to SAHS AICE by Amazon. | The SAHS AICE program would like to thank Theresa Meide and the UPS Store in Cobblestone for their generous support of AICE and the AICE Booster Club.  Please help us reciprocate by using her business for your printing and shipping needs. |
AICE GEAR

Cambridge Links

AICE T-shirts

NEW DESIGN COMING SOON!

Standard T-shirts – $10
Ladies T-Shirts – $12
Sizes Small through XL for both styles.
Students can stop by Guidance with their payment.

AICE Polo  Shirts – $15




Ongoing Fundraiser
Get Your Student Designed Magnets and Stickers!
$10 each
Funds support AICE Student activities

The Cambridge Website

Parents or students can look at specific syllabus information, as well as LOTS of info. about Cambridge programs around the world. www.cie.org.uk

Cambridge College Recognition Website

Where students/parents can look up the policy for hundreds of colleges regarding credit for AICE Exams  http://recognition.cie.org.uk

Cambridge STUDENT Website

At www.cambridgestudents.org.uk, students can access Learner Guides by subject, Study Guides with general helpful tips, common FAQs, Study Planners to organize exam study time, and much, much more! They will also find past papers, resource lists, revision checklists and useful web links for many subjects on the site. There are links to interactive simulations and games, and science resources which you can download for free. Please share with your Cambridge Students!

What makes Cambridge Students So Special?

Cambridge Outlook Magazine provides a colourful insight into CIE and is an important way of communicating with Cambridge schools and readers around the world.

Join the CIE community on

To get involved, you just need to visit our new Facebook page and become a fan of CIE. Post comments, chat to fellow Cambridge teachers, students, parents and community members worldwide. Our Facebook page includes photos of recent CIE events, videos, as well as regular news updates. With thousands of Cambridge teachers and students joining from around the world everyday, Facebook works to bring the Cambridge Learning Community closer together. We look forward to your comments!
TUTORING AVAILABLE
Any student in need of academic help should contact Mrs. Bechtle to arrange for tutoring from an AICE student.
ROTARY EXCHANGE
Several students from SAHS are participating in a year-long rotary exchange. You can read about their experiences in their blogs at ww.ryeflorida.org/outbounds2009.htm