WELCOME TO ST AUGUSTINE HIGH SCHOOL!

VISION: St. Augustine High School is a school of positive and passionate culture builders who develop trust and respect while building a community that values all students. Teachers work with students to grow readers and leaders in all subject areas.
"ONCE A JACKET, ALWAYS A JACKET!"

SUMMER office hours are from 7:30 am - 3:30 pm, Monday - Friday
UPCOMING EVENTS
July 28:

New Jacket Night

August 3: District Wide Schedule PREVIEW Date

Schedules will be visible in HAC from 7:30am – 4:00pm

August 4:

Link Crew Freshmen Orientation

August 8: 

Schedules live in HAC

August 9: 

"

Meet the Teacher"

August 10:

First Day of School!

September 5

: Labor Day (Student/Teacher Holiday)

October 14:

 End of 1st Quarter


DISTRICT LETTERS


NEW STUDENT COMING TO SAHS?
Sign up for a registration appointment. CLICK HERE>> to contact Ms. Laurie Johnson via email if you have any questions.
CLICK HERE>> for more information about registration.

TRANSCRIPT REQUESTS
All current student may order transcripts at no cost. Click the picture below to get started:

If you graduated before 2018, please contact Ms. Becky Cosgrove in the Student Records Department at (904)547-7137 or CLICK HERE to for email.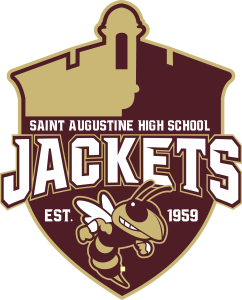 NEED JACKET GEAR?
CLICK HERE>> to visit our official store!
WE CAN HELP!
If you are a person with a disability who needs assistance and planning to attend a school meeting or program, please contact SAHS with your specific need at (904)547-8530.
VISION STATEMENT
JACKET PRIDE! Trust, Teamwork, Tenacity, Triumph…Tradition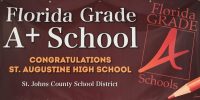 MISSION STATEMENT
St. Augustine High School will prepare all students for college and careers through rigorous and diverse programs of study which inspire good character and individual talents and abilities via an accepting and rewarding environment.
ALMA MATER
HAIL TO THEE, ST. AUGUSTINE HIGH SCHOOL, It's Maroon and Gold, Stands our noble Alma Mater, Glorious to behold. Far above the busy humming, Of our quaint old town, Reared against the Arc of heaven, Looks she proudly down. Raise the chorus speeded onward, Long it's banner fly, Hail to thee St. Augustine High School, Hail to Jacket High!
2021-2022 Instructional Materials Adoption for Mathematics UPDATE
On February 8, 2022, the St. Johns County School Board voted to approve the list of recommended resources for adoption for Math. View the final list of approved resources. Florida Statute allows parents or residents of the county to object to the adoption of a specific instructional material. If you would like to contest the adoption of the Math resources, you must complete the Reconsideration of Instructional Materials Request Form and submit it to the SJCSD Instructional Resources and Media Services Department no later than noon on March 10, 2022.
Please visit our Instructional Materials Adoption web page to:
Access the math resources that are being considered for adoption.
Learn more about the policies and procedures for textbook adoption.
B.E.S.T. Standards Presentation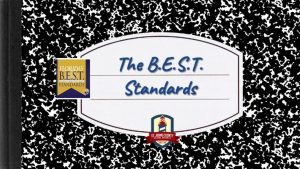 The purpose of the video is to provide parents and community members with information about the new B.E.S.T. Standards for English Language Arts and math. The video also explains the timeline for the implementation of the new standards.
View the B.E.S.T. Standards Presentation
FortifyFL is a website and app developed at the direction of the Florida Legislature. Any student, educator, parent or member of the public can report school safety concerns directly to law enforcement and school administrators anonymously and easily through the FortifyFL app or getfortifyfl.com.
Fill Out Your Volunteer School Access Form!
In a continuing effort to provide safety and security to our students and staff we ask that you complete a School Access Form if you plan to enter a facility in the St. Johns County School District. Any person passing beyond the front office area must show a valid driver's license or state identification card.
It is recommended individuals include their middle name when completing the online application; and, if no middle name, then please use the acronym "NMN".