Welcome to St. Augustine High School
[/su_tab]
Visitor Access
Seniors
Summer Reading/Assignments
Messages & Alerts
2017 2018 Orientation Schedule
PLEASE NOTE: For the safety of our students, anyone signing in as a visitor or wishing to sign out a student must present a picture ID (Driver's License or State ID)
Click here to become a volunteer! 
If you are a person with a disability who needs assistance and planning to attend a school meeting or program, please contact SAHS with your specific need at 547-8530.


Walking Fee – Each senior must pay a walking fee prior to graduation to help offset the cost of graduation. The fee CAN ONLY be paid online via this link. Seniors will not be cleared for Prom, Grad Bash or their diploma without paying this fee.
St. Augustine High School Summer Reading Assignment List:
11th  & 12th Grade AICE General Paper:  THE STRANGER by Albert Camus
12th Grade AICE English:  WUTHERING HEIGHTS by Emily Bronte (Assignment is on Edmodo – teacher: Scott Benyacko)
11th Grade AICE Literature: THE NAMESAKE by Jhumpa Lahiri & HOW TO READ LITERATURE LIKE A PROFESSOR (Revised Edition) by Thomas C Foster
10th  Grade AICE English Language: THE GREAT GATSBY by F. Scott Fitzgerald
10th Grade Honors English:  UGLIES by Scott Westerfield
9th Grade AICE Language:  THE GLASS CASTLE by Jeannette Walls
9th Grade Honors English:  A LONG WAY GONE by Ishmael Beal
9th, 10th, 11th, 12th Grade Standard English:  Choose 1 book from the FLORIDA TEENS READ list below:
ALL WE HAVE LEFT by Wendy Mills                                            Young Adult Fiction
THE DARKEST CORNERS by Kara Thomas                                  Young Adult Fiction
GEEK'S GUIDE TO UNREQUITED LOVE by Sarvenaz Tash      Young Adult Fiction
HIGHLY ILLOGICAL BEHAVIOR by John Corey Whaley           Young Adult Fiction
HOLDING UP THE UNIVERSE by Jennifer Niven                         Young Adult Fiction
KIDS OF APPETITE by David Arnold                                             Young Adult Fiction
LEARNING TO SWEAR IN AMERICA by Katie Kennedy           Young Adult Fiction
MY LADY JANE by Cynthia Hand, et al                          Young Adult Historical Fiction
REBEL OF THE SANDS by Alwyn Hamilton                                  Young Adult Fiction
SALT TO THE SEA by Ruta Sepetys                                Young Adult Historical Fiction
SAMURAI RISING: THE EPIC LIFE OF MINAMOTO YISHUNE by Pamela S. Turner
Young Adult Historical Fiction
SCYTHE by Neal Shusterman                                                                      Science Fiction
THE SERPENT KING by Jeff Zintner                                                Young Adult Fiction
TELL ME THREE THINGS by Julie Buxbaum                                   Young Adult Fiction
THREE DARK CROWNS by Kendare Blake                                                           Fantasy
 10th Grade AICE Summer Reading Assignment
The Great Gatsby Data Sheet.docx- Ways
PSAT – If your 9th or 11th grader would like to take PSAT on October 11, 2017 the fee is $20. Please pay using this link. The deadline is September 14th. Payment will only be accepted ONLINE.
Welcome to SAHS' Orientation Week
Orientation Schedule is….
Monday, July 31st        
9 – 10:15 AM……………… Seniors, Last Names A-M
(SAHS Cafeteria)        
10:15-11:30 AM…………..Seniors, Last Names N-Z
(SAHS Cafeteria)
1-2:15 PM…………………..Juniors, Last Names A-M
(SAHS Cafeteria)
2:15-3:30PM……………….Juniors, Last Names N-Z
(SAHS Cafeteria)
Tuesday, August 1st          
9 – 10:15 AM………………Sophomores, Last Names A-M
(SAHS Cafeteria)
10:15-11:30AM……………Sophomores, Last Names N-Z
(SAHS Cafeteria)
Monday, August 7th
9AM – 12PM………………All Freshmen-Link Crew Orientation
(SAHS Gym)

Attendance Clerk: Andrea Barber
Contact: 904-547-8519
Email: andrea.barber@stjohns.k12.fl.us
See Attendance page under "Student Life" for more information 
Make Every Day Count Yellow Jackets!
---
OUTSTANDING JACKETS RECOGNIZED-
The following students have been recognized for outstanding Character during the month of April 2017:
Adam Brandvold
Devin Mantei
Sloane Rockefeller
Tyler Giammatteo

---
Cady Studios
http://cadystudios.com/

---
Transcript Requests
All current students may order transcripts at no cost. Alumni will be charged $5 for each transcript ordered.
This change will take place August 1st, 2017.
Current students and graduates of 2014 and after request transcripts here:


If you graduated BEFORE 2014, please contact Becky Cosgrove in the Student Records Department. 904-547-7137, Rebecca.Cosgrove@stjohns.k12.fl.us.
---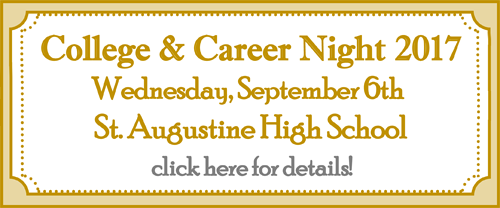 ---
Direct Line for Attendance
(904)-547-8519
Direct Line for Nurse
(904)-547-8832
---
Important Information 

We now have our own SAHS WebApp.  Just use your internet browser on your smart phone to connect to the "St. Augustine High School Website" (http://www-sahs.stjohns.k12.fl.us) and follow your screen prompt to save the "Yellow Jacket APP" icon to your phone.

School policy prohibits the ordering and delivery of food from off campus vendors during the school day.  All students are expected to bring their own lunch or buy lunch at school.  Any vendors arriving with off campus orders for students will not be accepted.  Please plan accordingly.

Your vote makes a big difference to our school.
Visit GiveWith.Target.com to vote for SAHS.

---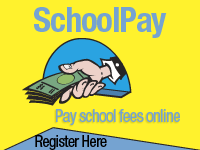 Click here to get started!
Parents can now pay several types of school fees online as designated by each school. It's quick, easy and convenient.
(NOTE: Continue to make payments for school lunches through the paypams.com website.)
SchoolPay Help Line: 888-88-MYPAY
Select this link for more information about SchoolPay.