WELCOME TO ST AUGUSTINE HIGH SCHOOL!

VISION: St. Augustine High School is a school of positive and passionate culture builders who develop trust and respect while building a community that values all students. Teachers work with students to grow readers and leaders in all subject areas.
"ONCE A JACKET, ALWAYS A JACKET!"
UPCOMING EVENTS
October 14:

 End of 1st Quarter

October 17:

Teaching Planning (Student Holiday)

November 11:

Veterans Day (Student/Teacher Holiday)

November 23-25:

Thanksgiving Break (Student/Teacher Holiday)


DISTRICT LETTERS


NEW STUDENT COMING TO SAHS?
Sign up for a registration appointment. CLICK HERE>> to contact Ms. Laurie Johnson via email if you have any questions.
CLICK HERE>> for more information about registration.

TRANSCRIPT REQUESTS
All current student may order transcripts at no cost. Click the picture below to get started:

If you graduated before 2018, please contact Ms. Becky Cosgrove in the Student Records Department at (904)547-7137 or CLICK HERE to for email.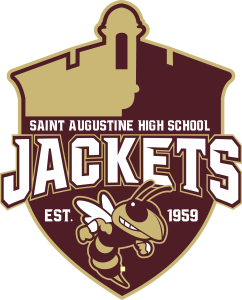 NEED JACKET GEAR?
CLICK HERE>> to visit our official store!
WE CAN HELP!
If you are a person with a disability who needs assistance and planning to attend a school meeting or program, please contact SAHS with your specific need at (904)547-8530.
VISION STATEMENT
JACKET PRIDE! Trust, Teamwork, Tenacity, Triumph…Tradition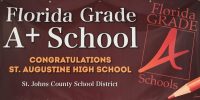 MISSION STATEMENT
St. Augustine High School will prepare all students for college and careers through rigorous and diverse programs of study which inspire good character and individual talents and abilities via an accepting and rewarding environment.
ALMA MATER
HAIL TO THEE, ST. AUGUSTINE HIGH SCHOOL, It's Maroon and Gold, Stands our noble Alma Mater, Glorious to behold. Far above the busy humming, Of our quaint old town, Reared against the Arc of heaven, Looks she proudly down. Raise the chorus speeded onward, Long it's banner fly, Hail to thee St. Augustine High School, Hail to Jacket High!
"Connecting Families to Community Resources" on Oct. 4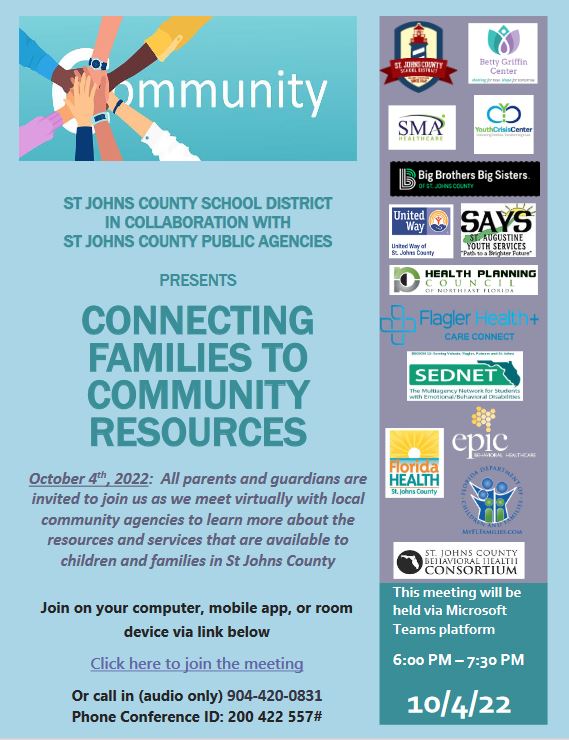 Please join us on October 4, 2022, from 6pm to 7:30pm for a virtual discussion titled "Connecting Families to Community Resources." All parents and guardians are invited to join us as we meet virtually with local community agencies to learn more about the resources and services that are available to children and families in St Johns County.
Secondary STEM Fair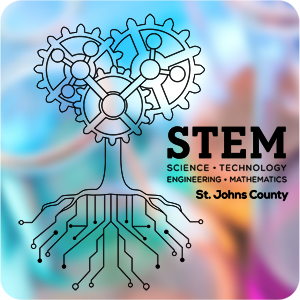 Our school supports STEM! If you are interested in participating in our county Secondary STEM Fair, ask your science teacher about getting started with a project!
To learn more, please visit the Secondary STEM Fair web page.
FortifyFL is a website and app developed at the direction of the Florida Legislature. Any student, educator, parent or member of the public can report school safety concerns directly to law enforcement and school administrators anonymously and easily through the FortifyFL app or getfortifyfl.com.
Fill Out Your Volunteer School Access Form!
In a continuing effort to provide safety and security to our students and staff we ask that you complete a School Access Form if you plan to enter a facility in the St. Johns County School District. Any person passing beyond the front office area must show a valid driver's license or state identification card.
It is recommended individuals include their middle name when completing the online application; and, if no middle name, then please use the acronym "NMN".