The Cambridge AICE Program
at St. Augustine High School
Cambridge International Fellowship Centre
2016 – SAHS AICE Student Bryce Bogert & Team USA in the PanAm
Bryce & Team USA were racking up the medals this month in the Fencing PanAm
Follow them on Facebook at USA Fencing
Bryce displaying his medals: Bronze JME, Silver JME team, Gold mix team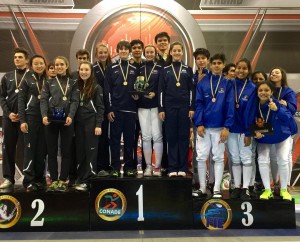 ---
2014 – SAHS AICE Student Bryce Bogert in Fencing World CupBryce Bogert, a sophomore, is Team USA's youngest fencer at just 15 years old. He helped Team USA take the Bronze medal at the Cadet World Cup in Austria on 10/25/14 and placed 14 out of 221 in the individual Men's Epee. Congratulations Bryce and Team USA!!!
| | |
| --- | --- |
| Bryce Bogert (far left) | Bryce Bogert (far left) |
---
2014 – SAHS AICE Student Bryce Bogert
and Team USA Take Gold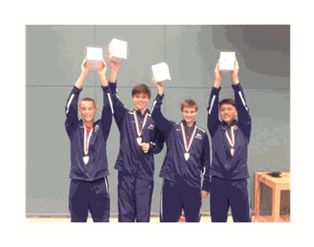 ---
Student Nominated to PACT Board
Congratulations to William Sapp who has been nominated to serve on the PACT board. PACT board members meet several times a year at the Sherriff's office to discuss what they see going on in their neighborhoods, schools and community regarding drug and alcohol abuse among their peers.
---
Tilbe Atabay One of Times-Union Remarkable Seniors of 2012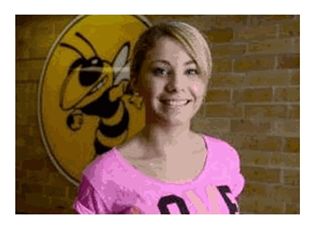 Some have made top grades. Others have excelled in sports, art or music. Most have volunteered in their community. Many have endured more heartache and difficulties than most adults experience in their lifetime. All are graduating from a Northeast Florida high school this year. Here are the stories of the Times-Union's 2012 Remarkable Seniors, based on nominations from their principals, guidance counselors or teachers.
Read Tilbe's story on Jacksonville.com
---
2012 – SAHS/SJCCA Student Rebecca Cunningham
Wins Fashion Award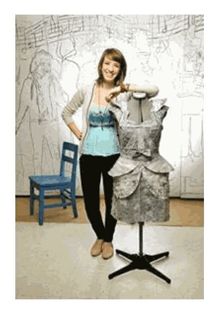 St. Augustine High School and St. Johns County Center for the Arts senior Rebecca Cunningham has received the First Place Platinum Award in the worldwide Savannah College of Art and Design (SCAD) Fashion Challenge.
Her design will now be a permanent addition to the SCAD Challenge online gallery. In addition, Cunningham was rewarded a scholarship for $3,000 a year to attend SCAD.
This year, the SCAD Challenge fashion design competition called for bold, fashion-forward original garment designs that were created using non-traditional materials rather than fabric. From more than 100 entries worldwide, the SCAD Challenge mentors selected 21 finalists whose work exhibited ingenuity, highly developed fashion sensibilities and a willingness to take risks with unfamiliar materials. A panel of faculty judges reviewed the finalists' garment designs and chose the winner whose work exhibited the greatest potential for success as both a SCAD student and creative professional.
Cunningham's garment consisted of magazine pages, duct tape, and dryer lint. Model Katrina Harrison modeled the dress at "The Laundry Room" in St. Augustine and was photographed by Olivia Hutcherson with creative assistance from Amelia Hutcherson.
Cunningham has studied under art teachers Amy Banton of Murray Middle School and David Olson of SAHS and credits them and the SJCCA greatly for their guidance throughout her artistic career.Rebecca plans on attending SCAD and majoring in Fashion Marketing and Management. Read more at http://jacksonville.com/news/metro/2012-03-01/story/laundromat-scraps-inspire-award-winning-dress-st-augustine-student
---
2012 – Congratulations Riley O'Neal
Riley O'Neal took 1st Place in the 2012 FFEA State Conference Speech Competition and has been invited to run for State President for next year for the FFEA. FFEA is the Florida Future Educators of America and Riley is in the teaching academy at SAHS.
---
2012 – AICE Students Make the Florida All State Chorus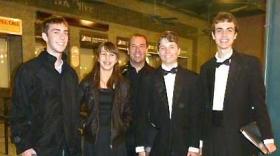 The following chorus students were selected through audition to perform in the
Florida All State Chorus in Tampa:
Chris Pritchard – 12th grade
Orion Morton – 12th grade
Ian Stark – 11th grade
Madeleine Schneider – 10th grade
To read the full story here staugustine.com/living/youth/2012-02-25/sahs-singers-participate-all-state-chorus#.UE0J3KORN8E
---
AICE Students Excel at International Thespian Festival 2011
Congratulations to the following students for their achievements:
Chase Usina – Superior Rating, Solo Musical
Saneh St. Claire and Quin New – Superior Rating, Scene
Esther Pielstick and Scott Haupt – Superior Rating, Scene
---
2011 – Nicholas Dupoux Earns "TOP IN THE USA"
Please congratulate Nicholas Dupoux (senior 2012) – we just received word that he received the "TOP IN THE USA" award for his score on the AICE AS Physics exam during the June 2011 exam session!!!! Nick also qualified to compete in the 2012 US National Chemistry Olympiad sponsored by the American Chemical Society to identify top science students in the nation.
---
2011 – Jeannie Boylan Earns "TOP IN THE USA"
Jeannie Boylan (2011 graduate) earned "TOP IN THE USA" for her score on the AICE AL History exam (hers was a combination of her US History and European History exam scores from June 2010 and June 2011). This is like getting a perfect score on the SAT!!!!!!
---
Congratulations to our own Noah Hackney who was selected Vystar All Star Athlete by Channel 4!
---
Congratulations
Cheyenne Nix
winner of the AICE T-shirt design contest and a $25 Visa Gift Card
Thank you to everyone who took the time to submit ideas and designs for the AICE T-shirt. Everyone had such creative ideas and it was a very hard decision for the AICE Advisory Board members to select one design out of such great entries!
---
2011 – Two AICE Students Earn
National Merit Scholarship Commended Status
Congratulations to Erin D. Brownett and Zachary R. Lemke who scored in the top 3% on the PSATs in 2011!!
---
2010 – Yannick Trapman-O'Brien Accepted to
Inaugural Class of NYU Abu Dhabi
Please join all of the AICE students and faculty in congratulating Yannick Trapman-O'Brien on an AMAZING accomplishment! Not only was he accepted to New York University for their Theater program (no small feat!), but was invited to join a small, select group of students who will be the first students to attend NYU in Abu Dhabi! After a trip to Abu Dhabi recently to check out the new school, Yannick waited to find out if he would be one of the few invited to be part of the Inaugural Class of 2010.
Yannick is also SAHS's Top Thinker!!!!
CONGRATULATIONS YANNICK! WE'RE ALL SO PROUD OF YOU! Hopefully, Yannick will keep us posted on how life in Abu Dhabi is next year. What a way to set the bar high – and provide hope to every SAHS student to shoot for their dreams!
WAY TO GO YANNICK!!
---
2010 – SAHS has Top Thinker and Top Artist in the USA!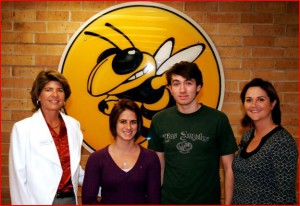 Cambridge AICE Academy students at St. Augustine High School are Tops in the Nation! Yannick Trapman-O'Brien has been identified by Cambridge International Examinations as the highest scoring student in the United States for the Thinking Skills exam. This is the 2nd year in a row that St. Augustine High boasts the Top Thinker! Alexander Metrakos, class of 2009, earned the honor last year. Nicole Santoriello had the highest scoring Art Portfolio. Nicole's portfolio focused on historical architecture from the Oldest City. She was inspired by her late father's work as an architect. The outstanding artwork, along with a description of the creative process, is being prepped for permanent display in the school lobby.
St. Augustine High School is a Cambridge International Fellowship Centre. Students take college level courses to achieve the Advanced International Certificate of Education (AICE) Diploma. Cambridge International Exams has been providing a rigorous, accelerated, international curriculum to students all over the world for over 150 years.
---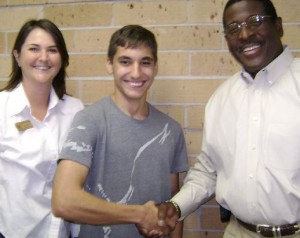 2009 –Alex Metrakos is Top in the USA!!!
Congratulations!! SAHS thrilled to congratulate Alex Metrakos for winning the Top in the USA award from Cambridge International Examinations. The award recognizes Alex for achieving the highest marks in the USA on the AS Level Thinking Skills exam! This is a brand new award category and we are so proud to have one of our students in the inaugural group of winners. Alex is a senior AICE student who also enjoys participation in the St. Johns County Center for the Arts Theatre Program.
---
2009 – Congratulations to Yellow Jacket swimmer Noah Hackney who took 9th place in the boys 100 meter backstroke at the FHSAA State Swimming & Diving Championship. Hackney started his State meet quest with a preliminary swim time of 55.47 placing him 10th in the consolation finals. In consolation finals, he posted a winning time of 54.71, taking first place in the heat and setting a new school record in the process. Hackney also placed 19th in the 500 yard freestyle with as time of 5:01.79.
---


Cambridge AICE Guidance Counselor
Dena Bechtle (904) 547-8533
[email protected]