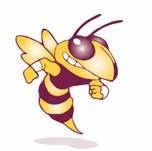 College & Career Planning
College Application Day – Tuesday, Dec. 6th, 2016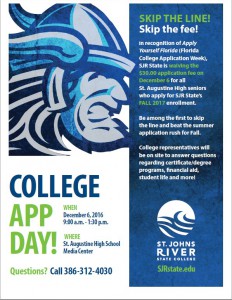 On December 6, St. Augustine High School seniors are being offered an amazing opportunity to apply to Saint Johns River State College at no cost! Representatives from The River will be in the Media Center from 1st through 4th periods that day to help them fill out their applications. All fees for applications completed on December 6th will be waived. Interested seniors will receive a pass during class to complete an application in the Media Center.
2016 College Representative Visits to SAHS
Sign up in Guidance.
| | | | |
| --- | --- | --- | --- |
| School | Date | Time | Location |
| Florida State University | 9/6/16 | 9:45 AM | Auditorium |
| University of Central Florida | 9/7/16 | 10:00 AM | Auditorium |
| University of Florida | 9/14/16 | 10:15 AM | Auditorium |
| Florida Atlantic University | 9/20/16 | 1:30 PM | Media Center |
| NOVA University | 10/11/16 | 9:45 AM | Cafeteria |
| University of South Florida – St. Pete | 10/12/16 | 9:45 AM | Media Center |
| Florida Polytechnic University | 10/13/16 | 10:00 AM | Cafeteria |
| Florida Southern College | 10/18/16 | 9:45 AM | Cafeteria |
| Valdosta State University | 10/19/16 | 9:45 AM | Cafeteria |
| Bartram Dental Assisting School | 10/21/16 | 9:45 AM | Media Center |
| Vanderbuilt University | 10/25/16 | 9:45 AM | Cafeteria |
| University of North Florida | 11/1/16 | 1:30 PM | Auditorium |
---
Planning for College and Beyond
Please visit www.FloridaShines.org. This website was designed to help students succeed in school and life after graduation. You can find resources on preparing for college, college admissions, and degree programs.
This link (https://www.floridashines.org/go-to-college/get-ready-for-college-careers) provides a personalized high school progress evaluation, the College and Career Planner booklet, a College Checklist, as well as helpful resources for test-taking and studying skills.
---
Finding the Right College or University for You
In September 2015, The U.S. Department of Education released the College Scorecard website, an online college ratings system. The site provides information to users about institutions' annual cost of tuition, graduation rates and median earnings of graduates 10 years after completing their studies, as well as more granular data regarding the percentage of students receiving federal loans and need-based aid (Pell grants). The site was designed to assist students in selecting post-secondary education options that will prepare them for their careers while avoiding the pitfalls of student loan debt and under performing institutions. https://collegescorecard.ed.gov/
For more information on affordable colleges in Florida, please visit: http://www.collegeaffordabilityguide.org/schools/florida/
---
2016 Florida State University System Admissions Matrix
Thinking about applying for one of Florida's 12 state universities? Click the image below to download the matrix for information on location, size, average GPA and ACT/SAT test scores, etc.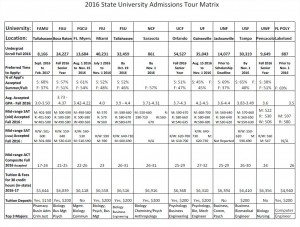 ---
Career Planning
Please create a MyCareerShines account at: https://www.floridashines.org/find-a-career/plan-your-future-mycareershines.
This program provides:
A series of assessments about your interests, skills and priorities will help you connect with careers that are just right for you.
An extensive catalog of careers with easy-to-understand job descriptions will help you learn about the vast array of occupations that are available in the dynamic 21st century economy.
The online planner will help you create a personal path for education that prepares you for a successful career.
Information about colleges and financial aid will help you turn your plan into reality.
When you are ready for work, a variety of online tools will help you create a resume and search for jobs.