Instructors: Mr. Trey Brewer, Mr. Anthony Romeo-Adcock, Ms. Madeline Poe, Mr. Jonathan Peters, Ms. Kaila Schippani
Instructors: Sergeant Major Wyche, CW5 Braund
Instructors: Ms. Dempsey Hall, Ms. Frances Wood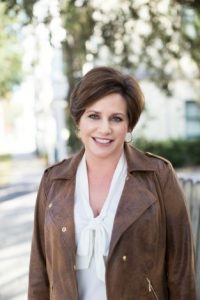 Frances Wood moved to Florida after beginning college in Kentucky and completing her English Degree at Jacksonville University. She has been teaching high school English for twenty-one years. Several years ago she retired, but she missed the students too much to stay away. Ms. Wood lives in St. Augustine with her husband. She has two grown daughters, and her favorite pastime is spending time with her husband, her kids, and her dog. This year she is teaching Introduction to the Teaching Profession and AICE Literature. Often asked what her favorite book is, she replies, "The one that I'm currently reading." You will often see Ms. Wood around campus attending sporting events and any other events in which her students are involved. GO JACKETS !!!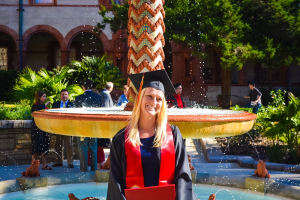 Dempsey Hall in currently in her fifth year of teaching at Saint Augustine High School. Born in Salisbury, Maryland, she attended Flagler College, where she majored in Secondary Education with a concentration in English Language Arts, and earned an ESOL endorsement. She spent her senior internship at Saint Augustine High School, and ultimately accepted English Language Arts teaching position soon after graduation. She has been a proud Yellow Jacket ever since. Ms. Hall serves Saint Augustine High School as a teacher, coach, and club sponsor. She currently teaches 9th grade English and two Teaching Academy courses to junior and senior students through the St. Johns Academy of Future Teachers. She also coaches the girls' varsity soccer team at Saint Augustine High School and has coached at the school for the past seven years. Ms. Hall is also the club sponsor for the Future Florida Educators of America and serves as a member of the AVID site team. In her spare time, Ms. Hall enjoys traveling, hiking, photography, cooking, and writing. She has visited 12 countries and almost all 50 states! She is currently studying Spanish, learning to bake, and playing with her new camera. Ms. Hall's favorite part of her job is sharing her passion for literature, watching students grow, and inspiring future teachers.
Academy Instructors: Lieutenant Harold Rutledge, Martin Westall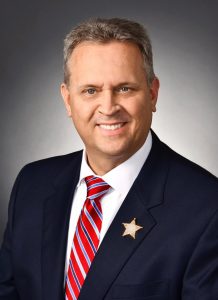 Harold Rutledge comes to St. Augustine High School with a combination of 38 years' experience in criminal justice and education. Harold, a retired Lieutenant, began his career at the age of twenty two as a correctional officer. After several months, he transferred to the patrol division. During his career, Lt. Rutledge worked as a watch commander, school resource officer, hostage negotiator, field training officer, and a traffic homicide investigator, to name a few. He was a certified instructor in hostage negotiations, police radar operator, pepper spray, defensive tactics, firearms, and taught at the First Coast Technical College and the St. Johns River Police Academy.

He began his teaching career as the school resource officer at Clay High School in Green Cove Springs. He was asked to create the criminal justice program for the Academy of Law and Emergency Services and held the first class in 2003. That first class had only 12 students. Lt. Rutledge retired in 2015 from teaching with a robust program of nearly 400 students. In fact, his program was only the second criminal justice program in the nation to receive the prestigious Model Status from the National Career Academy Coalition.
During this same time period, Mr. Rutledge was elected as a County Commissioner for Clay County's District Five. He served as the chairman of the Parks and Recreation Committee, the chairman of the Budget and Finance Committee and Chairman of the Board of County Commissioners. During his time as a commissioner, he reduced property taxes by more than 20 percent while, funded needed road projects, a new Emergency Operations Center, and preserved the 150 acre Camp Chowenwaw Girl Scout camp as a Florida Forever park so generations to come can enjoy Clay County's hidden treasure.
Lt. Rutledge holds advanced degrees in Criminal Justice, an Associate in Arts Degree from St. Johns River State College, a Bachelor's Degree in Psychology from the University of North Florida, and a Master's Degree in Business from Ashford University. Education is something he strongly believes in and is one of a few things someone cannot take from you.
Harold and his wife have been married for more than 27 years and have four children. Three of his four children have either graduated or are currently attending the criminal justice program he built at Clay High School.
After retirement, Lt. Rutledge was asked to help start the criminal justice program at St. Augustine High School with the Academy of Law and Homeland Security. After the program got off to a rocky start, Harold was asked to join St. Augustine High School and teach the program. He left retirement and the golf course and has taken the program from 60 to nearly 200 students in just three years. This second program he has built offers the students a chance to earn 6 high school credit towards graduation, leave high school with the Police Service Aide (P.S.A.) certification, Florida Class D security guard license, and the 911 Telecommunicator license from the Florida Department of Health. These certifications and licenses allow a high school student to graduate and enter the workforce full or part-time.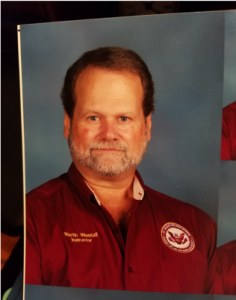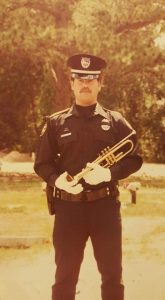 Martin Westall is an Instructor at St. Augustine High School in the Academy of Law and Homeland Security. He is a Veteran of local Law Enforcement, having served with the St. Johns County Sheriff's Office, Clay County Sheriff's Office, Jacksonville Sheriff's Office, and City of Green Cove Springs Police Department. While with the Jacksonville Sheriffs Office, he also served on the Honor Guard for the department, playing TAPS, at several funerals for Fallen Officers, Dignitaries, and was requested to play for Police Memorial Day in Tallahassee at the State Capitol. He took pride in serving the communities that he worked in and solved many cases. As a Rookie Officer, he was awarded the Prestigious "Officer of the Year" award for his prowess in solving several school burglaries, resulting in multiple arrests and convictions. His love for the job and his attentiveness to his students, shines thru every day. He brings his experience in Law Enforcement, and knowledge of Florida Laws, as well as diversity and cultural changes from those departments to the classroom. He believes that while Patrol is the backbone of any department, teaching this environment to high school students is vital to their future vocational lives after graduation. Mr. Westall has three grown children and 1 grandson. His hobbies include horseback riding (owned a farm), going to the shooting range, riding on the beach and trails in a Jeep, mountain trips, and photography. He enjoys playing Santa Claus during Christmas season. He inspires students with two favorite quotes: "We are constantly learning, even at my age!", and "The FBI calls that a clue!"