Welcome to St. Augustine High School
Visitor Access
Seniors
Summer Reading/Assignments
Messages & Alerts
2017 2018 Orientation Schedule
PLEASE NOTE: For the safety of our students, anyone signing in as a visitor or wishing to sign out a student must present a picture ID (Driver's License or State ID)
Click here to become a volunteer! 
If you are a person with a disability who needs assistance and planning to attend a school meeting or program, please contact SAHS with your specific need at 547-8530.
STREAM GRADUATION LIVE: https://youtu.be/vPG0YgjmPUc
SENIOR EXIT SURVEY: All seniors must complete THIS SURVEY before receiving their cap & gown and graduation tickets.
IMPORTANT UPCOMING DATES:
April 3rd or 5th: Grad Bash Meeting during all 3 lunches in the Media Center. Students attending MUST attend at least one meeting.
April 7th: Grad Bash – Students must attend school 1st through 3rd period.
April 21st: Prom @ The River House, tickets available online NOW for $75
May 1st: Walking Fee must be paid to Ms. Rimel $25
May 5th: Last Day for Seniors & Senior Cookout – Get ticket for $2
May 8th-12th: Senior Exam Week in the Media Center
May 12th: Senior Clearance Day 11-3 PM – Get Cap & Gown and 1st 5 tickets
May 15th: Senior Awards Night 6 PM @ SAHS Auditorium
May 16th: Baccalaureate Service @ Anastasia Baptist Church State Road 15 Campus @ 6 PM (Contact Anna Crum if interested in helping)
May 19th: MANDATORY Graduation Rehearsal 9 AM @ St. Augustine Amphitheatre
May 23rd: GRADUATION @ Saint Augustine Amphitheatre – Students must be there by 6 PM, Graduation will start at 7:30 PM
SENIOR QUOTES: All senior quotes should be in at this time. See Ms. Forsythe to submit a quote if you have not done so already.
PROM: Prom is April 21st at the River House in St. Augustine Florida. Students must attend school for HALF OF THEIR SCHEDULED DAY in order to attend prom that evening. Prom tickets will be $75 and will ONLY be sold during lunches at St. Augustine High School. If you are having a guest from out of town you must complete required forms prior to purchasing tickets. See the STUDENT LIFE tab at the top of the page for more information on Prom.
CAP & GOWNS: A representative from Herff Jones will be in the cafeteria to take orders for Cap & Gowns and announcements during all lunches on Friday December 2nd. You can also order online at https://highschool.herffjones.com/secom/home where you will create an account to order. Make sure you select St. Augustine High School as our gown is embroidered with our crest. The price increases after February 1st!
WALKING FEE: All seniors are required to pay a $25.00 walking fee. This helps offset the cost of graduation which is approximately $15,000. This fee can be paid through school pay (see link above) or in person in the Media Center with cash or check (made out to SAHS). This needs to be paid before March. Graduation will take place at the St. Augustine Amphitheater on Tuesday May 23, 2017.
FUNDRAISERS: SAHS Seniors are raising money to update the Audio System in the Gym as our gift to the school.
"Once a Jacket Always a Jacket" hoodies are on sale for $25.00 and can be purchased in room D406 (Mr. Ranick).
SENIORS FOR SENIORS: Seniors for Seniors is a group of SAHS seniors whose purpose is to give back to the community. To that end, we have adopted the residents of The Pavilion @ Bayview. In the course of that work our students have the opportunity to meet senior citizens that they would otherwise never know.
If you are interested in helping, stop by the Media Center and see Ms. Rimel.
We will begin working on new activities after the holidays!
GRAD BASH: The date is April 7th, 2017 with the price being $125 per student. Students will enjoy Universal Studios from 4 PM until 2 AM. Students attending GRAD BASH MUST attend a meeting on either April 3rd or 5th during their lunch. Students that don't attend will be assumed they are no longer attending.
REMIND UPDATES: If you would like to get updates and reminders about senior events, join our remind group! Send a text to 10181 in the text box, type @msraiman
St. Augustine High School Summer Reading Assignment List:
11th  & 12th Grade AICE General Paper:  THE STRANGER by Albert Camus
12th Grade AICE English:  WUTHERING HEIGHTS by Emily Bronte (Assignment is on Edmodo – teacher: Scott Benyacko)
11th Grade AICE Literature: THE NAMESAKE by Jhumpa Lahiri & HOW TO READ LITERATURE LIKE A PROFESSOR (Revised Edition) by Thomas C Foster
10th  Grade AICE English Language: THE GREAT GATSBY by F. Scott Fitzgerald
10th Grade Honors English:  UGLIES by Scott Westerfield
9th Grade AICE Language:  THE GLASS CASTLE by Jeannette Walls
9th Grade Honors English:  A LONG WAY GONE by Ishmael Beal
9th, 10th, 11th, 12th Grade Standard English:  Choose 1 book from the FLORIDA TEENS READ list below:
ALL WE HAVE LEFT by Wendy Mills                                            Young Adult Fiction
THE DARKEST CORNERS by Kara Thomas                                  Young Adult Fiction
GEEK'S GUIDE TO UNREQUITED LOVE by Sarvenaz Tash      Young Adult Fiction
HIGHLY ILLOGICAL BEHAVIOR by John Corey Whaley           Young Adult Fiction
HOLDING UP THE UNIVERSE by Jennifer Niven                         Young Adult Fiction
KIDS OF APPETITE by David Arnold                                             Young Adult Fiction
LEARNING TO SWEAR IN AMERICA by Katie Kennedy           Young Adult Fiction
MY LADY JANE by Cynthia Hand, et al                          Young Adult Historical Fiction
REBEL OF THE SANDS by Alwyn Hamilton                                  Young Adult Fiction
SALT TO THE SEA by Ruta Sepetys                                Young Adult Historical Fiction
SAMURAI RISING: THE EPIC LIFE OF MINAMOTO YISHUNE by Pamela S. Turner
Young Adult Historical Fiction
SCYTHE by Neal Shusterman                                                                      Science Fiction
THE SERPENT KING by Jeff Zintner                                                Young Adult Fiction
TELL ME THREE THINGS by Julie Buxbaum                                   Young Adult Fiction
THREE DARK CROWNS by Kendare Blake                                                           Fantasy
 10th Grade AICE Summer Reading Assignment
The Great Gatsby Data Sheet.docx- Ways
SJCCA Performing Arts Schedule 2016-17
As the semester comes to an end for the students who are taking dual enrollment courses on the college campus, we would like to encourage them to return their dual enrollment textbooks and materials to Fullerwood by December 13th.  After December 13th, students incur a fine of $10 per book per day! All books checked out from the Fullerwood Center, must be returned to the Fullerwood Center.  Please do not collect books at your school that were checked out in our office.  (Books received by mail will be checked in as of the day they are received in our office which may cause students to have fines.) 
The office hours at Fullerwood are 8:00 AM until 5:00 PM and we are located at 10 Hildreth Drive
If you are sending out any Alert Now messages (BlackBoard), please consider including this information.  I have also included a backpack note (attached) that you may send home with your Dual Enrollment students.  Please be sure to remind seniors that they must have their DE books returned to Fullerwood in order to be cleared for graduation. 
Spring term checkout begins on Thursday, January 5th from 8:00 AM until 4:30 PM. 
Welcome to SAHS' Orientation Week
Orientation Schedule is….
Monday, July 31st        
9 – 10:15 AM……………… Seniors, Last Names A-M
(SAHS Cafeteria)        
10:15-11:30 AM…………..Seniors, Last Names N-Z
(SAHS Cafeteria)
1-2:15 PM…………………..Juniors, Last Names A-M
(SAHS Cafeteria)
2:15-3:30PM……………….Juniors, Last Names N-Z
(SAHS Cafeteria)
Tuesday, August 1st          
9 – 10:15 AM………………Sophomores, Last Names A-M
(SAHS Cafeteria)
10:15-11:30AM……………Sophomores, Last Names N-Z
(SAHS Cafeteria)
Monday, August 7th
9AM – 12PM………………All Freshmen-Link Crew Orientation
(SAHS Gym)
Attendance Clerk: Andrea Barber
Contact: 904-547-8519
Email: [email protected]
See Attendance page under "Student Life" for more information 
Make Every Day Count Yellow Jackets!
---
OUTSTANDING JACKETS RECOGNIZED-
The following students have been recognized for outstanding Character during the month of April 2017:
Adam Brandvold
Devin Mantei
Sloane Rockefeller
Tyler Giammatteo

---
Cady Studios
http://cadystudios.com/

---
Transcript Requests
Request official transcripts through the guidance office. The first transcript is free of charge. Each additional transcript is $2.00.
Current students and graduates of 2014 and after request transcripts here:


If you graduated BEFORE 2014, please contact Becky Cosgrove in the Student Records Department. 904-547-7137, [email protected].
---
---
---
Empowering Excellence in Educators


Learn about St. Johns County School District's new instructional evaluation system that will advance student growth and academic achievement
---
Direct Line for Attendance
(904)-547-8519
Direct Line for Nurse
(904)-547-8832
---
---
Important Information 

We now have our own SAHS WebApp.  Just use your internet browser on your smart phone to connect to the "St. Augustine High School Website" (http://www-sahs.stjohns.k12.fl.us) and follow your screen prompt to save the "Yellow Jacket APP" icon to your phone.

School policy prohibits the ordering and delivery of food from off campus vendors during the school day.  All students are expected to bring their own lunch or buy lunch at school.  Any vendors arriving with off campus orders for students will not be accepted.  Please plan accordingly.

Your vote makes a big difference to our school.
Visit GiveWith.Target.com to vote for SAHS.

---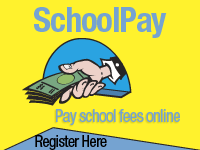 Click here to get started!
Parents can now pay several types of school fees online as designated by each school. It's quick, easy and convenient.
(NOTE: Continue to make payments for school lunches through the paypams.com website.)
SchoolPay Help Line: 888-88-MYPAY
Select this link for more information about SchoolPay.