If you are a person with a disability who needs assistance and planning to attend a school meeting or program, please contact SAHS with your specific need at 547-8530.
Welcome to St. Augustine High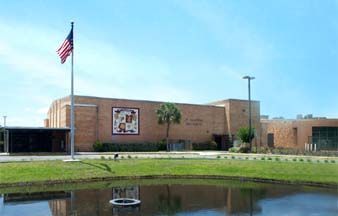 St. Augustine High School

Make Every Day Count Yellow Jackets!
---
Please Note
For the Safety of Our Students Anyone Signing-in as a Visitor or Wishing to Sign-out a Student Must Present a Picture ID (Drivers's License or State ID)
---
Mission Statement
SAHS will prepare all students for college and careers through rigorous and diverse programs of study which inspire good character and individual talents and abilities via an accepting and rewarding environment.
---
---
Empowering Excellence in Educators


Learn about St. Johns County School District's new instructional evaluation system that will advance student growth and academic achievement.
---
Programs of Study

---
eSchoolPlus: Home Access Center
Direct Line for Attendance
(904)-547-8519
Direct Line for Nurse
(904)-547-8795
---
Jackets of the Month (MVJs)-
(Most Valuable Jacket winners- Jan.)
9th grade- Madeleine Mueller
10th grade- Solomiya Halat
11th grade- Hailey Calevas
12th grade- Shaun Smith
Teacher- Parker Eckhoff
Staff Member- Loistine Rollins

---
Punctuality Pays Winners – (session1):
Daimin Figueroa-Batts
Sharaya Russell
Molly Burkhardt
Max Jones
---
---
Jacket Life


Hi Yellow Jackets! Click on me for
additional school information
.
---
Important Dates / Information


We now have our own SAHS WebApp.  Just use your internet browser on your smart phone to connect to the "St. Augustine High School Website" (http://www-sahs.stjohns.k12.fl.us) and follow your screen prompt to save the "Yellow Jacket APP" icon to your phone.
Your vote makes a big difference to our school.
Visit GiveWith.Target.com to vote for SAHS.


March
Parent Needs Assessment Survey
ESE Parent Survey
10th: at 6:30PM 2014 SAHS MS Registration Presentation
13th: Third Quarter Ends
14th: Teacher Planning Day-student holiday
17th-21st: Spring Break- student/teacher holiday
24th: Classes Resume for students/teachers
25th : Gifted Parent Advisory Meeting
27th : Report Cards issued
29th: Community Empowerment series: "Could Your Child Be a Victim"
April
18th: Student/Teacher Holiday
22nd-25th: FCAT Testing: (Rdg, Math & Science)
25th : Interims issued
May
13th : Gifted Parent Advisory Meeting
26th: Memorial Day-Student/Teacher Holiday
30th: SAHS Graduation at UNF
June
5th: Last Day for Students
6th: Last Day for Teachers-Teacher Planning Day