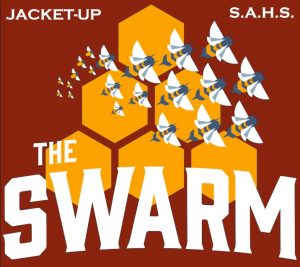 Jacket-Up SWARM's goals are the following:
* To provide positive incentives to students
* To improve communication within our HIVE
* To develop a student-led group, aka THE SWARM, focusing on increasing school morale and a positive school culture
This site is for Jacket family use. A way for you to stay up-to-date with what is going on in our Jacket Hive here at S.A.H.S.
If you would like to have something announced on the weekly videos, please complete
this JACKET-UP SWARM NEWS form by THURSDAY of each week by 8:30 AM.
FOR THOSE INTERESTED IN JOINING THE JACKET-UP NEWS CREW, PLEASE COMPLETE THE…
Jacket News Team Online Interest Form 
Weekly Jacket-Up SWARM Videos
(Shown Mon. 4th period)
Daily Jacket-Up SWARM News
(Shown Tues.-Fri. 4th period)
Jacket-Up Winners