Current 2017-2018 Registration
Counselors will begin meeting with rising 10th, 11th, and 12th graders on Monday, January 23, 2017 – Friday, February 3rd, 2017 for the upcoming school year.  Once your child has met with their counselor, you will be able to see their requests for next year on HAC.
How to look at my students Course Recommendations?
Log into HAC
Click on "Classes"
Click on "Schedule"
At the bottom, you will see a table titled 2017-2018 Course Recommendations.
If you have specific questions about graduation requirements, please contact your student's guidance counselor.
If you have specific questions about a certain academic recommendation (example: why is my child not recommended for the honor's level class?), please contact that student's academic teacher who made the recommendation. (Example: If you see your child in a standard level English class, you will contact their current English teacher).
***We will pull students through their English courses.  If your child does not have an English class, please have them come see Mr. Earl Brown  in Guidance to schedule an appointment.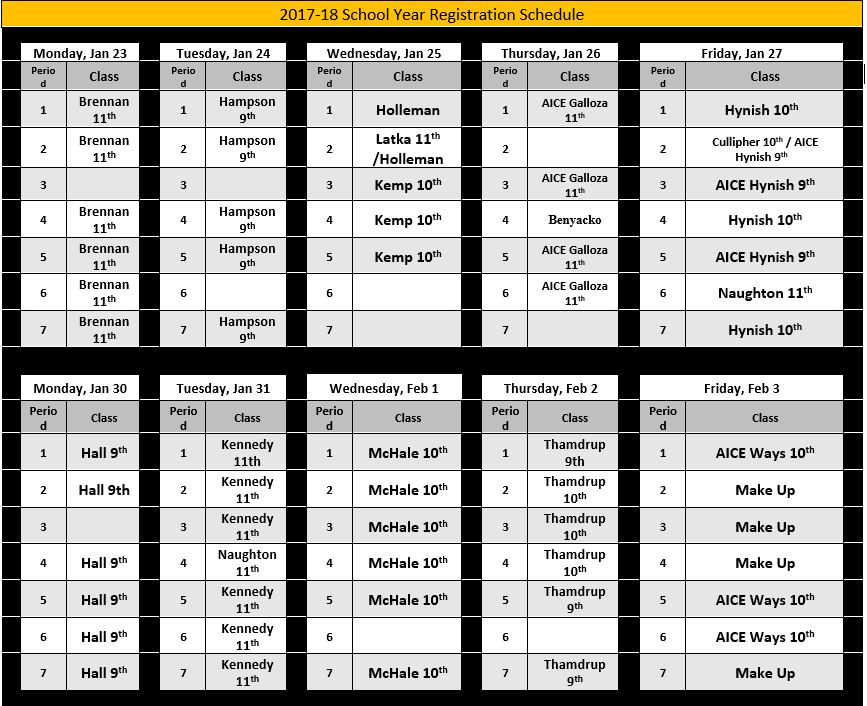 New Student Registration
Please open the links below for District approved documents that are required for SJCSD Registration. To schedule a new student registration, please contact Jackie Ard, Guidance secretary, at Jackie.Ard@stjohns.k12.fl.us or 904-547-8831. If possible, please download and complete the registration packet PRIOR to your registration appointment.
SJCSD Registration Parent Guardian Packet
Moving? Please submit the following form with the proper documentation outlined on the form below.
SJCSD Registration Residency and Health
Additional Information
All students must register at their home-zoned school. The school district Attendance Zones Locator (http://www.stjohns.k12.fl.us/zoning/) will identify the correct school.
Proof of Residency – Certain documents will be required to prove residency. A complete detail of these requirements can all be found in: (http://www.stjohns.k12.fl.us/student/residency/).
Proof of Immunization
Florida Certification of Immunization, DOH 680 Form (Florida State Statute 1003.22)
FL Immunization Requirements – FAQs
For additional Information regarding immunizations, please contact: Florida Department of Health-St. Johns County 904-209-3250 200 San Sebastian View St. Augustine, FL 32084 http://stjohns.floridahealth.gov/about-us/index.html.
Other Required Documentation
Copy of Birth Certificate
School-Entry Health Examination (dated within 12 months of the student's first day of school)
Social Security Number (optional)
Academic Records (for students previous enrolled in another school)
Although we will request the records from the previous school, placement may be expedited if you have:
Most recent report card
Unofficial transcripts or grades
Most recent test scores (mandatory prior to registration for Honors or Dual Enrollment classes)