Pictures will be up to date before the AFI Inspection.
Major Brent A. Reynolds was born in Oklahoma City, Oklahoma. After graduating from high school he enlisted in the United States Army as an Infantryman in the 7th Infantry Division (light) assigned to 1st Battalion 9th Infantry Regiment in Ft. Ord, California. After realizing he had a passion for flying Major Reynolds pursued a career change to aviation and served as an Aeroscout Observer in both Korea and Germany. During this time Major Reynolds also served as a unit training sergeant. Even though his NCO corps experiences were invaluable, his continued passion for aviation led him to apply to Warrant Officer Candidate School where he was accepted and attended Army flight training at Fort Rucker, Alabama. Unfortunately, his aviation career was cut short due to a medical disqualification. Faced with involuntary separation from the Army, Major Reynolds felt he had a duty to continue to serve the Soldiers and his country and decided to attend Officer Candidate School at Ft. Benning, Georgia where he was commissioned as a Transportation Second Lieutenant in 2001.
Major Reynolds' officer career started by serving as a Platoon Leader for the 57th Transportation Battalion in Fort Lewis, Washington. During this time, he took his Platoon on a successful deployment to Kandahar, Afghanistan. Post deployment he served the battalion as S3 operations, completed his Bachelor's degree at Saint Martin's University in Lacey, Washington and then served as a G3 Training Officer with I Corps until assuming command of the 606th Forward Support Company. After Major Reynolds' successful command, he volunteered to serve as a Senior Logistics Advisor on a Military Transition Team deploying to Iraq in 2009, training logistics operations to senior Iraqi officers. After his Iraqi deployment he chose to serve as a senior ROTC instructor for Florida Southern College in Lakeland, Florida as his next and last duty assignment.
Retiring from his Army career just shy of 23 years, Major Reynolds owes many thanks to the wonderful people he had the pleasure of serving alongside. The one notable experience Major Reynolds holds dear from his career is the ability to advise and positively impact fellow Soldier's lives and careers. He holds that experience in higher esteem than any award or accolade.
Major Reynolds has attended the Infantry, Aeroscout Observer and Combat Documentation Specialist Advanced Individual Training Courses; Primary Leadership Development Course; Warrant Officer Candidate School; Initial Entry Rotary Wing Course; Officer Candidate School; Transportation Officer Basic Course and the Combined Logistics Career Course. Major Reynolds' awards include the Army Accommodation Medal, Army Achievement Medal, Air Force Achievement Medal, Army Good Conduct Medal, National Defense Service Medal, Korean Service Medal, and the Aircrewman Aviation Badge.
He is married to Gina Watson Reynolds from Enterprise, Alabama, and has three children:    Kyle Jacob (20), Olivia Grace (12) and Cooper Allan (8).
Senior Army Instructor: (Ret.) MAJ Reynolds
Office: 262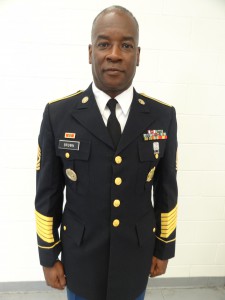 First Sergeant Carlton Dale Brown was born in West Palm beach Florida and raised in suburban Atlanta Georgia. During his childhood he spent many long hours and days working his grandmother's farm land. Working was part of his everyday life and yet he found time to study and finish school. First Sergeant Brown attended Lee County High School where he played basketball and ran track. He graduated in 1978 and went on to attend Atlanta Area Technical College. After a few years at the technical college, First Sergeant Brown decided to join the United States Army where he served as a logistics specialist, military intelligence sergeant, drill sergeant, and recruiting company First Sergeant. After 20 years of military service First Sergeant concluded his time in the army and retired in 2000. In 2001, First Sergeant Brown found employment as a JROTC instructor, Football coach, Basketball coach,  and head track coach here at St. Augustine High School where he still serves today. First Sergeant Brown has obtained his bachelor's degree from the University of Phoenix  and is in the process of completing his master's at the university.
Army Instructor: (Ret.) 1SG Carlton D. Brown
Contact information: [email protected] Room:254
Office: 252
_________________________________________________________________________________________                                                                                                                                               Battalion  Battalion Commander: C/LTC Arias, Shannon
Battalion Executive Officer: C/MAJ Jones, Christopher
Battalion CSM: C/CSM O'Connor, Christopher
_________________________________________________________________________________________
Alpha Co: C/SFC Martinson, Trace
Alpha 1SG: C/PFC Johnson, Emma
Bravo Co: C/1LT Thomas, Shiray
Bravo 1SG: C/1SG Major, Robyn
Charlie Co: C/1LT Saunders, Sade
Charlie 1SG: C/SFC Hall, Landon
Delta Co: C/2LT Donaldson, Dedrieauna
Delta 1SG: C/1SG Palermo, Dominic
__________________________________________________________________________________________
S-1: C/1LT Thornton, Daniel
S-2: C/2LT Downs, Richard
S-3: C/CAP Gayle, Jadain
S-4: C/2LT Williams, Karlasha
S-5: C/SGT Pagano, Heather